Many people don't realize that, in addition to the entertainment value, go-kart racing can be rather competitive. Numerous current Formula One drivers got their start in the sport on a go-kart track. This post is for you if you are serious about your go-karting hobby.
In this article, I will cover every base that has to be covered in order to enter the world of professional go-kart racing. Let's not dally and get right down to business.
Is There Professional Go-Kart Racing?
For decades, professional go-kart racing has grown in popularity across the world. These go-kart competitions are a stepping stone for aspiring race car drivers to show what they're made of before moving on to the big leagues.
The exciting world of professional go-kart racing may be experienced by asking around at your local go-kart facility. Although these racers do not get nearly as much press as the major names in racing, they are nevertheless a lot of fun and a fantastic opportunity to see potential Formula One drivers in action.
Professional Go-Kart Racing Leagues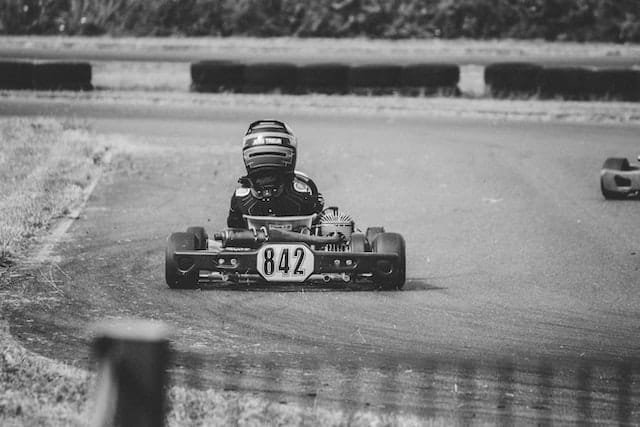 There is a multitude of professional go-kart racing leagues worldwide. The interest in some of the world's most prestigious tournaments, both at the international and national levels, continues to grow.
You may be astonished to learn that the CIK and FIA have authorized these racing leagues; these are the same organizations that have approved more well-known racing series like the Formula One and World Rally Championships.
In these competitions, the key distinctions between divisions are the size of the drivers' engines and their ages. I've included some of the best national and international racing leagues for you to join below.
Go-kart racers' holy grail is KF1, the highest class in the series. The CIK and FIA have joined forces to officially authorize this illustrious competition. In the past, drivers drove 100 cc engines, and the series was known as Formula A. It's been rebranded as KF1 and given 125-cc engines.
To compete in this league is like finishing high school before entering the real world of auto racing. Drivers need to qualify in both the KF2 and KF3 classes before moving on to the elite KF1 division. Many previous KF1 champions also went on to win the F1 title.
The KZ1 European Go-Kart Championship is another CIK-FIA-approved adult go-kart racing league in Europe. Formerly known as Formula C, this racing league's rules are quite similar to those of the KF1 series. Keep in mind that KZ1 is available in both a regional and an international edition.
Competitors from all around the globe compete in the KZ1 international championships, whereas only Europeans compete in the KZ1 European championships. Those interested in racing in the KZ1 league must first complete the KZ2 and KZ3 divisions.
Simply calling this competition "Super Karts" is enough to set it apart from other leagues in the industry. The use of super karts is, however, what distinguishes this championship from others that are more traditionally based on go-kart leagues. These go-karts are equipped with a full body kit that prioritizes aerodynamics. They are also equipped with a more powerful 250cc 2-stroke engine that is hidden under the kit.
Here we have another racing league that has the approval of the CIK-FIA. The European Super-kart Championship is a series of competitions that takes place annually all across the continent of Europe.
Karting World Championship
The KWC Go-Kart Championship is the world's oldest and most prestigious go-kart race. Go-karts didn't come into existence until 1956, but the CIK-FIA has been running this big competition since 1964.
The Karting World Championship, in contrast to the other championships I described previously, is a global competition consisting of many races that are staged in various locations across the world.
There is a junior category for drivers under the age of 18, in addition to the adult division.
How To Get Into Go-Kart Racing For Adults?
Joining a go-kart racing event is easy. Kart racing can be a lot of fun, and the best place to get started is at a karting facility near you. Karts at these circuits are among the fastest in the world, and the tracks themselves are of the highest quality. You may run a race with a group of people you know, your family, or just random strangers.
The days of carefree competition are over. Now, if you still feel competent after that, you may go further in your career. After that, you may enter competitions on a more regional and local scale. But before you get into professional go-kart racing, you need to be sure you have the necessary skills to handle the adrenaline, stress, and speed.
This sort of professional kart racing was only staged at official tracks, which included all of the amenities. If there is one in the area, you may pay a certain charge to enter and go there to have a look around and drive there.
By doing so, you'll gain familiarity with the courses used in professional kart racing. You'll also have an advantage if you're familiar with the course before the event begins.
How Expensive Is Professional Go-Kart Racing?
Professional go-kart racing is not everyone's cup of tea, and there are several expenses that need to be covered even before you have set foot on the track. The price of competitive go-kart racing is quite different from the price of recreational go-kart rides offered by many venues. However, if you are set on competing in go-kart races professionally, you should be prepared to put up some serious cash.
Cost Breakdown Of Professional Go-Kart Racing
· Buying A Go-Kart
You should probably start by purchasing a kart. You should expect to spend well over a thousand dollars for a professional-grade go-kart. The go-karts used in the most prestigious events may cost up to $10,000. Those go-karts feature superior engines and are usually constructed to order. If you just have a deep wallet, you won't go very far here because you'll also need a lot of experience with go-karts.
· Buying Safety and Protective Gear
Then there's the outlay of cash necessary to stock up on safety equipment. You can't compete professionally in a go-kart without them, and they'll keep you safe if an accident does happen. It's safe to assume that spending a few hundred dollars to get your hands on the protective gear is a realistic expectation. There goes the startup money or one-time investments.
· Buying Replacement Parts
You also have other expenses to consider. Some of the parts of go-karts need to be replaced eventually once you are karting professionally because they wear out due to over usage. The wheel, axles, and tires are all examples of such components. As tires age, they become less effective in gripping the road. A nice pair of tires will cost you approximately $100. Professional go-kart racing is very high-impact. Thus drivers often need to swap out their tires.
· Fuel Cost
The price of gasoline is another significant factor to take into account. You'll need to make room in your financial plan for a couple of hundred dollars to cover the cost of it.
· Entry Fee
Entry fees are required for every professional go-karting race that is staged in the United States. Therefore, the amount of money you have to pay will either be determined race by race or all at once for the whole season, depending on the championship.
· License
The last cost to consider is the cost of a racing license. There is no one overarching license, and instead, each championship has its own set of licensing requirements. A medical examination is required along with permission, which might add another $900 to $1000 to the total price.
How Fast Do Professional Go-Karts Go?
Go-karts used professionally may reach speeds that are mind-boggling. You need to have a solid understanding of the sport of karting before you start competing at a professional level. The go-karts at your standard go-kart facility normally have a top speed of thirty miles per hour.
Professional super-karts are capable of speeds of up to 150 miles per hour, which is far faster than the peak speed of many passenger cars. A wide range of go-kart categories is employed at various competitive levels.
The 125 CC TaG and Shifter Classes are normally used when it comes to professional go-karting. They can travel at speeds of 70–110 miles per hour. The fastest 250 cc super-karts are saved for last because of their insane peak speed. Most riders on this 250cc monster are amateurs hoping to make it big in racing.
What Is The Professional Go-Kart Racing Salary?
You already know that go-kart racing is an expensive hobby to start. In exchange, you may be curious about the payoff if and when you achieve professional success as a go-kart racer. Making money in professional go-karting doesn't begin until much later in your career.
Investing and working your way to the top are priorities when you're just getting started. There is no prize money or pay associated with racing at the club level. Instead, a price must be paid to enter.
When you begin winning national and international titles, the cash begins rolling in. The majority of earnings come from prize money and sponsorship rather than a regular job. The cash prizes for these tournaments range from $1,000 to $200,000.
However, if you don't come in the first place, the payout drops dramatically. On the other hand, you can't expect to always come out on top in races. Instead of focusing on winning prizes, you should work on securing sponsorships.
Having a large following on social media may be a huge selling point when trying to get sponsorship deals. When you represent their brand, these companies will pay you and cover any costs you incur.
Unfortunately, the financial rewards for professional go-karting are not like those of other motorsports. This means that, sure, you will make money after you reach the pinnacle.
However, after you include the cost of maintaining and improving your go-kart, it may be difficult to turn a profit in this line of work. But if you want to make the jump from professional go-karting to other forms of racing, here is the place to do it.
From Where Can We Take Professional Go-Kart Racing Training?
There is currently no one place to go to get go-kart racing coaching. You can't gain the kind of practical expertise required for training that doesn't already come from months of experience in the field.
In most cases, local karting centers do not offer a professional education program or even a practice program for go-kart races. A local racetrack course may provide some introductory instruction, though.
However, there is a severe lack of kart racing academies in the United States. The training programs at each of these institutions span many levels. These schools provide training for a race in every facet of professional go-kart racing, from driving instruction and methods to race plans and kart calibration.
How Do I Get My Child Into Go-Kart Racing?
There was once an era when go-karting was seen as an activity only for mature individuals. As the years have passed, go-kart racing has become more popular among children as young as 10 to 13 years old. Your child will enjoy go-kart racing immensely at this age. Through the sport of go-karting, they may get valuable lessons in competition, safety, coordination, and the importance of practice.
A primary worry of parents who allow their children to participate in go-karting is the kids' safety. If you're worried about your child's safety, don't be; most karting centers provide kid-friendly karts that are simpler to drive and have lower maximum speeds. You may even take your youngster racing in one of the double-seated go-karts.
As the caretaker, it is your responsibility to keep the children safe. The kids shouldn't be scared of going on go-kart rides, so make sure of that. Your youngster may lose interest in go-karting if he or she has any accidents while learning the sport.
The first step is to visit a local go-kart track with the kids. It's usually free to watch from the stands, and once your child sees how much fun other people are having, they'll be begging to join in. But as a parent, you also have certain additional duties to do. Make sure the go-kart track has safety equipment for your kids to use.
Individualized safety gear for your kids is something you can easily purchase. They'll have a greater appreciation for go-karting as a result. Before allowing your kid to race at the track, make sure to ask the management any questions, you may have and voice any security concerns you may have.
The popularity of go-karting is similar in South Africa to that it is in other parts of the world. Over the course of its history, South Africa has developed a robust infrastructure of go-karting leagues, which all work toward the same goal of competing in the South African kart championship.
A number of go-kart tracks in the surrounding area are now taking applications for the regional championships. The ages of the participants in these tournaments vary from 5 to 32 years old. The Gauteng Provincial Karting Championships were a lot of fun.
The KwaZulu-Natal Kart Championships and the Western Province Kart Championships are two of the most well-known and competitive regional professional go-kart racing leagues in South Africa. You have to first win one of these regional leagues before you can go on to participate in the national finals.
Bottom Line
I'm hoping you were able to get some insight into the world of professional go-kart racing from this post. You can see how simple it is to enter the competitive world of go-kart racing. A person with the right skills can easily jump right into the world of go-kart racing. You'll be able to take another step further on your path to professional auto racing now that this amazing opportunity is available to you.